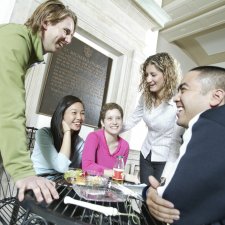 Why do we need a women's health report?
There are well-documented differences in the health of men and women, in their access to care and in the care that they receive. What's more, there are differences in health and health care even between various groups of women, depending on their income level, education, ethnicity, and where they live in the province.
To improve the health of all Ontarians, it is important to address these health differences, or inequities. The POWER Study has conducted a comprehensive analysis of these differences across the continuum of care, from health promotion to hospital care. Focusing specifically on women is important because they make up more than half the population, are frequent health care users, tend to be the primary family caregivers and decision makers about health, and have unique health care needs.

How will POWER help health care policy makers and providers?
The POWER Study used indicators, or measures, to paint a picture of gender, socioeconomic, and ethnic inequities in health in Ontario. By doing so, it identified many opportunities for improvement and provided objective evidence for priority setting. Also, the use of indicators provides a baseline from which to measure progress and to assess the impact of interventions aimed at achieving gender and socioeconomic equity in health.
Wherever possible, POWER findings were reported at the level of Ontario's Local Health Integration Networks (LHINs), which are responsible for planning, coordinating and funding the delivery of health care services within their respective communities. Where data did not exist to support analysis at this level, findings were reported at the provincial level. As such, POWER Study findings support Ontario's health system transformation agenda which is aimed at making the system patient-focused and of the highest quality.

What are indicators and how can they be used to address health inequities?
Indicators are measures that can be used to reflect the health of a population, the performance of health care processes and the outcomes of health care. For example, we could use indicators to look at life expectancy, access to health care and outcomes of care for a specific population, such as low-income women. Using those same indicators, we could compare what differences might exist between a group of low-income women and their high-income countrparts, or between low-income women in one part of the province and another. This would help us identify where health inequities exist and to what extent.
For more information on indicators, including the criteria used in selecting indicators and the POWER Study Gender and Equity Health Indicator Framework, see Chapter 2. 

How will POWER help advocates for women's health?
Input from diverse groups, including community-based organizations, health advocates, providers, consumers and policy-makers was integral to shaping the Report. Stakeholder perspectives helped identify priorities, and indicators, and they contributed invaluable suggestions on how to make the report most useful. The Report provides new and comprehensive information that measures women's health status, access to health care and the quality of services across the continuum of care, while also integrating the social determinants of health. It reports differences between men and women, as well as differences among women associated with age, income, education, ethnicity, and where they live. This information can support the advocacy agendas of women's health organizations across the province and nationally.
Ultimately, the POWER study aimed to improve the health and equity of all women of Ontario.


Who produced the POWER Report?
The POWER Study was a collaborative effort involving over 60 researchers with relevant content and methodological expertise from various fields, including health services research, medicine, nursing, social sciences, and health care policy. The research team was organized into working groups based on chapters of the Report. Supporting this large research team were technical expert panels, an advisory council, and key stakeholders in women's health.
For more detail on the collaborative model used to produce the POWER Study's Women's Health Equity Report, see the Introduction chapter.